Old Vietnam Card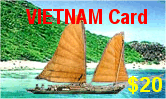 Rating:

Rate It
Email Friends

Our Price:
$18.95
List Price:
$20.00
Best for South Asia countries!
35 min to Vietnam, 32 min to Cambodia.
38 min to Laos, 140 min to Phillipines.
No Connection Fee!
Customer Service

sales@seawolftech.com

Access Number

1-800-750-1543 English

Dial Instructions

Dial Access Number
1. When prompted, enter your card number
2. Enter the phone number, including area code or
    011 + country code + city code + tele No.
3. To Place another call press ##

Expiration

The card expires 2 months after purchase day.

Note

No connection fee. A $0.50 surcharge applies to calls originationg at a payphone. A $1.00 monthly mantainance fee applies after first use. Inception fees and taxes may apply on calls. Advertised minutes are based on one time usage. 1 or 3 minute minimum and increments may apply for all calls.
This card is not intended for emergency use.
Rate Info for Old Vietnam Card:
Rate subject to change without notice. Rates to cellphone are higher unless indicated.
| Country/Region | | | |
| --- | --- | --- | --- |
| C | Con. fee($) | Rate (¢/min) | Minutes |
| Cambodia | 0.00 | 59.2 | 32 |
| I | Con. fee($) | Rate (¢/min) | Minutes |
| India | 0.00 | 43.1 | 44 |
| L | Con. fee($) | Rate (¢/min) | Minutes |
| Laos | 0.00 | 49.9 | 38 |
| P | Con. fee($) | Rate (¢/min) | Minutes |
| Pakistan | 0.00 | 43.1 | 44 |
| Philippines | 0.00 | 13.5 | 140 |
| U | Con. fee($) | Rate (¢/min) | Minutes |
| United States | 0.00 | 5.6 | 338 |
| V | Con. fee($) | Rate (¢/min) | Minutes |
| Vietnam | 0.00 | 51.2 | 37 |