NY Express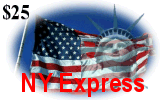 Rating:

Rate It
Email Friends

Our Price:
$19.45
List Price:
$25.00
Local 589 mins, Toll Free 366 to China
601 Taiwan, 651 HongKong
Local 686 mins, Toll Free 350 mins to S. Korea
No Connection Fee!
Customer Service

sales@seawolftech.com

Access Number

1-800-725-1352
1-800-337-4651
Local Access Numbers

Dial Instructions

1. Dial Access Number
2. Enter your pin No.
3. To call within the United States, to Canada or to the Carbbean:
Enter 1 + area code + tele No. + #
To call other country:
Enter 011 + country code + city code + tele No. + #


Expiration

6 months after purchase

Note

This card is designed for customers who have free access or flat fee access to these local access numbers in New York Area. No service fees. One minute rounding. Local toll charges may apply. 0.89 cents will apply for calls made from a public pay phone, hotel phone or campus phone. Please check with your local telephone compnay for cost to access these local access numbers.
Rate Info for NY Express:
Rate subject to change without notice. Rates to cellphone are higher unless indicated.
| Country/Region | | | |
| --- | --- | --- | --- |
| A | Con. fee($) | Rate (¢/min) | Minutes |
| Afghanistan | 0.00 | 20.7 | 94 |
| Afghanistan - Local | 0.00 | 18.5 | 105 |
| Afghanistan - Cell | 0.00 | 21.9 | 89 |
| Afghanistan - Cell - Local | 0.00 | 19.8 | 98 |
| Albania | 0.00 | 14.1 | 138 |
| Albania - Local | 0.00 | 12.0 | 162 |
| Albania - Cell | 0.00 | 31.9 | 61 |
| Albania - Cell - Local | 0.00 | 29.9 | 65 |
| Argentina | 0.00 | 6.9 | 282 |
| Argentina - Buenos Aires | 0.00 | 4.9 | 400 |
| Argentina - Local | 0.00 | 4.6 | 427 |
| Argentina - Local - Buenos Aires | 0.00 | 2.5 | 769 |
| Australia | 0.00 | 5.9 | 331 |
| Australia - Local | 0.00 | 3.5 | 549 |
| Austria | 0.00 | 3.6 | 540 |
| Austria - Local | 0.00 | 1.6 | 1215 |
| Austria - Cell | 0.00 | 5.0 | 389 |
| Austria - Cell - Local | 0.00 | 3.0 | 648 |
| Austria - Cell - Others | 0.00 | 29.0 | 67 |
| Austria - Cell - Others - Local | 0.00 | 27.0 | 72 |
| B | Con. fee($) | Rate (¢/min) | Minutes |
| Bangladesh | 0.00 | 3.9 | 498 |
| Bangladesh - Local | 0.00 | 1.9 | 1023 |
| Bangladesh - Cell | 0.00 | 3.9 | 498 |
| Bangladesh - Cell - Local | 0.00 | 1.9 | 1023 |
| Belgium | 0.00 | 4.0 | 486 |
| Belgium - Local | 0.00 | 2.0 | 972 |
| Belgium - Cell | 0.00 | 5.0 | 389 |
| Belgium - Cell - Local | 0.00 | 3.0 | 648 |
| Belgium - Cell - NonGeo | 0.00 | 9.0 | 216 |
| Belgium - Cell - NonGeo - Local | 0.00 | 7.0 | 277 |
| Bermuda | 0.00 | 5.5 | 353 |
| Bermuda - Local | 0.00 | 3.5 | 555 |
| Bermuda - Cell | 0.00 | 4.9 | 396 |
| Bermuda - Cell - Local | 0.00 | 2.9 | 670 |
| Bhutan | 0.00 | 11.5 | 169 |
| Bhutan - Local | 0.00 | 9.5 | 204 |
| Bhutan - Cell | 0.00 | 9.5 | 204 |
| Bhutan - Cell - Local | 0.00 | 7.5 | 259 |
| Brazil | 0.00 | 12.3 | 158 |
| Brazil - Sao Paulo | 0.00 | 6.9 | 281 |
| Brazil - Rio de Janiero | 0.00 | 7.0 | 278 |
| Brazil - Local | 0.00 | 10.0 | 195 |
| Brazil - Local - Sao Paulo | 0.00 | 4.6 | 425 |
| Brazil - Local - Rio de Janiero | 0.00 | 4.7 | 418 |
| Bulgaria | 0.00 | 13.2 | 147 |
| Bulgaria - Sofia | 0.00 | 8.2 | 238 |
| Bulgaria - Local | 0.00 | 10.9 | 178 |
| Bulgaria - Local - Sofia | 0.00 | 5.8 | 334 |
| C | Con. fee($) | Rate (¢/min) | Minutes |
| Canada | 0.00 | 5.8 | 333 |
| Canada - Local | 0.00 | 3.5 | 556 |
| Cayman Islands | 0.00 | 9.0 | 216 |
| Cayman Islands - Local | 0.00 | 7.0 | 277 |
| Cayman Islands - Cell | 0.00 | 18.0 | 108 |
| Cayman Islands - Cell - Local | 0.00 | 16.1 | 121 |
| Chad | 0.00 | 57.2 | 34 |
| Chad - Local | 0.00 | 55.6 | 35 |
| Chile | 0.00 | 7.5 | 261 |
| Chile - Local | 0.00 | 5.1 | 381 |
| China - inc. Cell | 0.00 | 2.9 | 670 |
| China - Local - inc. Cell | 0.00 | 3.3 | 589 |
| Colombia | 0.00 | 5.5 | 353 |
| Colombia - Local | 0.00 | 3.5 | 555 |
| Colombia - Cali | 0.00 | 4.0 | 486 |
| Colombia - Cali - Local | 0.00 | 2.0 | 972 |
| Colombia - Bogota | 0.00 | 5.2 | 374 |
| Colombia - Bogota - Local | 0.00 | 3.2 | 607 |
| Colombia - Medellin | 0.00 | 5.2 | 374 |
| Colombia - Medellin - Local | 0.00 | 3.2 | 607 |
| Colombia - Barranquilla | 0.00 | 4.5 | 432 |
| Colombia - Barranquilla - Local | 0.00 | 2.5 | 778 |
| Colombia - Pereira | 0.00 | 4.5 | 432 |
| Colombia - Pereira - Local | 0.00 | 2.5 | 778 |
| Colombia - Armenia | 0.00 | 8.0 | 243 |
| Colombia - Armenia - Local | 0.00 | 6.0 | 324 |
| Colombia - Cell | 0.00 | 8.0 | 243 |
| Colombia - Cell - Local | 0.00 | 6.0 | 324 |
| Colombia - LEX | 0.00 | 18.0 | 108 |
| Colombia - LEX - Local | 0.00 | 16.1 | 121 |
| Costa Rica | 0.00 | 12.7 | 153 |
| Costa Rica - Local | 0.00 | 10.3 | 188 |
| Czech Rep | 0.00 | 7.6 | 256 |
| Czech Rep - Local | 0.00 | 5.3 | 370 |
| D | Con. fee($) | Rate (¢/min) | Minutes |
| Denmark | 0.00 | 7.8 | 248 |
| Denmark - Local | 0.00 | 5.5 | 352 |
| Dominican Republic | 0.00 | 16.1 | 121 |
| Dominican Republic - Local | 0.00 | 13.7 | 142 |
| E | Con. fee($) | Rate (¢/min) | Minutes |
| Estonia | 0.00 | 8.9 | 218 |
| Estonia - Local | 0.00 | 6.6 | 295 |
| F | Con. fee($) | Rate (¢/min) | Minutes |
| Faeroe Islands | 0.00 | 20.9 | 93 |
| Faeroe Islands - Local | 0.00 | 18.5 | 105 |
| Finland | 0.00 | 8.6 | 225 |
| Finland - Local | 0.00 | 6.3 | 308 |
| France | 0.00 | 3.5 | 555 |
| France - Local | 0.00 | 1.5 | 1296 |
| France - Cell | 0.00 | 6.0 | 324 |
| France - Cell - Local | 0.00 | 4.0 | 486 |
| France - Cell - Globalstar | 0.00 | 52.6 | 37 |
| France - Cell - Globalstar - Local | 0.00 | 51.2 | 38 |
| France - NGN | 0.00 | 32.4 | 60 |
| France - Ngn - Local | 0.00 | 30.4 | 64 |
| G | Con. fee($) | Rate (¢/min) | Minutes |
| Germany | 0.00 | 2.0 | 972 |
| Germany - Local | 0.00 | 1.8 | 1080 |
| Germany - Cell | 0.00 | 6.0 | 324 |
| Germany - Cell - Local | 0.00 | 4.0 | 486 |
| Germany - Cell - Vistream | 0.00 | 7.0 | 277 |
| Germany - Cell - Vistream - Local | 0.00 | 5.0 | 389 |
| Ghana | 0.00 | 22.1 | 88 |
| Ghana - Local | 0.00 | 20.1 | 97 |
| Ghana - Cell | 0.00 | 17.1 | 114 |
| Ghana - Cell - Local | 0.00 | 15.1 | 129 |
| Greece | 0.00 | 8.9 | 219 |
| Greece - Athens | 0.00 | 8.0 | 244 |
| Greece - Local | 0.00 | 6.5 | 297 |
| Greece - Local - Athens | 0.00 | 5.6 | 345 |
| H | Con. fee($) | Rate (¢/min) | Minutes |
| Hong Kong | 0.00 | 5.4 | 357 |
| Hong Kong - Local | 0.00 | 3.1 | 625 |
| Hungary | 0.00 | 3.5 | 555 |
| Hungary - Local | 0.00 | 1.5 | 1296 |
| Hungary - Cell | 0.00 | 7.0 | 277 |
| Hungary - Cell - Local | 0.00 | 5.0 | 389 |
| I | Con. fee($) | Rate (¢/min) | Minutes |
| Iceland | 0.00 | 9.9 | 196 |
| Iceland - Local | 0.00 | 7.6 | 256 |
| Indonesia | 0.00 | 7.9 | 246 |
| Indonesia - Jakarta | 0.00 | 3.3 | 589 |
| Indonesia - Local | 0.00 | 5.9 | 329 |
| Indonesia - Local - Jakarta | 0.00 | 1.3 | 1496 |
| Indonesia - Batam | 0.00 | 4.5 | 432 |
| Indonesia - Batam - Local | 0.00 | 2.5 | 778 |
| Indonesia - Denpasur | 0.00 | 4.5 | 432 |
| Indonesia - Denpasur - Local | 0.00 | 2.5 | 778 |
| Indonesia - Makassar | 0.00 | 4.5 | 432 |
| Indonesia - Makassar - Local | 0.00 | 2.5 | 778 |
| Indonesia - Cell | 0.00 | 4.5 | 432 |
| Indonesia - Cell - Local | 0.00 | 2.5 | 778 |
| Indonesia - Cell Indosat | 0.00 | 8.5 | 228 |
| Indonesia - Cell Indosat - Local | 0.00 | 6.5 | 299 |
| Iran | 0.00 | 6.9 | 281 |
| Iran - Local | 0.00 | 4.9 | 396 |
| Iran - Cell | 0.00 | 8.9 | 218 |
| Iran - Cell - Local | 0.00 | 6.9 | 281 |
| Ireland | 0.00 | 5.6 | 347 |
| Ireland - Local | 0.00 | 3.3 | 595 |
| Israel | 0.00 | 8.3 | 233 |
| Israel - Local | 0.00 | 6.0 | 323 |
| Italy | 0.00 | 3.8 | 511 |
| Italy - Local | 0.00 | 1.8 | 1080 |
| Italy - Cell | 0.00 | 5.0 | 389 |
| Italy - Cell - Local | 0.00 | 3.0 | 648 |
| Italy - Cell - Others | 0.00 | 42.3 | 46 |
| Italy - Cell - Others - Local | 0.00 | 40.5 | 48 |
| Italy - Cell - RFE | 0.00 | 84.6 | 23 |
| Italy - Cell - RFE - Local | 0.00 | 81.0 | 24 |
| J | Con. fee($) | Rate (¢/min) | Minutes |
| Japan | 0.00 | 3.9 | 498 |
| Japan - Cell. | 0.00 | 6.5 | 299 |
| Japan - Local-Cell. | 0.00 | 4.5 | 432 |
| Japan - Local | 0.00 | 1.9 | 1023 |
| K | Con. fee($) | Rate (¢/min) | Minutes |
| Korea South - Cell | 0.00 | 10.4 | 187 |
| Korea South - Local-Cell | 0.00 | 8.1 | 240 |
| Korea, South | 0.00 | 5.2 | 373 |
| Korea, South - Local | 0.00 | 2.9 | 676 |
| L | Con. fee($) | Rate (¢/min) | Minutes |
| Liechtenstein | 0.00 | 10.0 | 194 |
| Liechtenstein - Local | 0.00 | 7.7 | 253 |
| Luxembourg | 0.00 | 8.5 | 230 |
| Luxembourg - Local | 0.00 | 6.1 | 318 |
| M | Con. fee($) | Rate (¢/min) | Minutes |
| Malaysia | 0.00 | 3.9 | 498 |
| Malaysia - Local | 0.00 | 1.9 | 1023 |
| Malaysia - Cell | 0.00 | 3.9 | 498 |
| Malaysia - Cell - Local | 0.00 | 1.9 | 1023 |
| Mexico | 0.00 | 1.7 | 1144 |
| Mexico - Local | 0.00 | 1.5 | 1296 |
| Mexico - Cell | 0.00 | 6.0 | 324 |
| Mexico - Cell - Local | 0.00 | 4.0 | 486 |
| N | Con. fee($) | Rate (¢/min) | Minutes |
| Netherlands | 0.00 | 5.4 | 357 |
| Netherlands - Local | 0.00 | 3.1 | 625 |
| New Zealand | 0.00 | 6.8 | 284 |
| New Zealand - Local | 0.00 | 4.5 | 431 |
| Norway | 0.00 | 6.1 | 321 |
| Norway - Local | 0.00 | 3.7 | 521 |
| P | Con. fee($) | Rate (¢/min) | Minutes |
| Peru | 0.00 | 4.5 | 432 |
| Peru - Local | 0.00 | 2.5 | 778 |
| Peru - Lima | 0.00 | 3.5 | 555 |
| Peru - Lima - Local | 0.00 | 1.5 | 1296 |
| Peru - Cell | 0.00 | 11.1 | 176 |
| Peru - Cell - Local | 0.00 | 9.0 | 216 |
| Peru - RocRural | 0.00 | 55.6 | 35 |
| Peru - RocRural - Local | 0.00 | 35.4 | 55 |
| Philippines | 0.00 | 14.8 | 131 |
| Philippines - Local | 0.00 | 12.9 | 151 |
| Philippines - Manila-Local | 0.00 | 12.9 | 151 |
| Philippines - Manila | 0.00 | 14.8 | 131 |
| Philippines - Cell | 0.00 | 17.8 | 109 |
| Philippines - Cell-Local | 0.00 | 15.8 | 123 |
| Philippines - Cell-Global | 0.00 | 15.4 | 126 |
| Philippines - Cell-Global-Local | 0.00 | 13.4 | 145 |
| Philippines - Cell-Smart | 0.00 | 17.8 | 109 |
| Philippines - Cell-Smart-Local | 0.00 | 15.8 | 123 |
| Poland | 0.00 | 3.8 | 511 |
| Poland - Local | 0.00 | 1.8 | 1080 |
| Poland - Cell | 0.00 | 5.0 | 389 |
| Poland - Cell - Local | 0.00 | 3.0 | 648 |
| Portugal | 0.00 | 9.2 | 211 |
| Portugal - Local | 0.00 | 6.1 | 320 |
| R | Con. fee($) | Rate (¢/min) | Minutes |
| Romania | 0.00 | 3.5 | 555 |
| Romania - Local | 0.00 | 1.5 | 1296 |
| Romania - Cell | 0.00 | 5.0 | 389 |
| Romania - Cell - Local | 0.00 | 3.0 | 648 |
| Russia | 0.00 | 9.0 | 216 |
| Russia - Moscow | 0.00 | 3.9 | 498 |
| Russia - St.Petersburg | 0.00 | 3.9 | 498 |
| Russia - Local | 0.00 | 7.0 | 277 |
| Russia - Local - Moscow | 0.00 | 1.9 | 1023 |
| Russia - Local - St.Petersburg | 0.00 | 1.9 | 1023 |
| Russia - Cell | 0.00 | 22.1 | 88 |
| Russia - Cell - Local | 0.00 | 20.1 | 97 |
| S | Con. fee($) | Rate (¢/min) | Minutes |
| San Marino | 0.00 | 9.8 | 199 |
| San Marino - Local | 0.00 | 7.5 | 261 |
| Singapore | 0.00 | 4.9 | 400 |
| Singapore - Local | 0.00 | 2.5 | 769 |
| South Africa | 0.00 | 12.5 | 156 |
| South Africa - Local | 0.00 | 10.1 | 192 |
| Spain | 0.00 | 3.5 | 555 |
| Spain - Local | 0.00 | 1.5 | 1296 |
| Spain - Cell | 0.00 | 5.0 | 389 |
| Spain - Cell - Local | 0.00 | 3.0 | 648 |
| Spain - Ngn | 0.00 | 32.4 | 60 |
| Spain - Ngn - Local | 0.00 | 30.4 | 64 |
| Sweden | 0.00 | 2.0 | 972 |
| Sweden - Local | 0.00 | 1.8 | 1080 |
| Sweden - Cell | 0.00 | 5.3 | 366 |
| Sweden - Cell - Local | 0.00 | 3.3 | 589 |
| Switzerland | 0.00 | 7.0 | 279 |
| Switzerland - Local | 0.00 | 3.9 | 505 |
| T | Con. fee($) | Rate (¢/min) | Minutes |
| Taiwan | 0.00 | 5.1 | 383 |
| Taiwan - Local | 0.00 | 2.7 | 710 |
| Taiwan - Cell | 0.00 | 12.5 | 156 |
| Taiwan - Cell - Local | 0.00 | 10.1 | 192 |
| Thailand | 0.00 | 17.4 | 112 |
| Thailand - Bangkok | 0.00 | 9.7 | 200 |
| Thailand - Local | 0.00 | 15.0 | 130 |
| Thailand - Local - Bangkok | 0.00 | 7.4 | 263 |
| U | Con. fee($) | Rate (¢/min) | Minutes |
| UK | 0.00 | 3.0 | 648 |
| UK - Local | 0.00 | 1.0 | 1945 |
| UK - Cell | 0.00 | 4.9 | 396 |
| UK - Cell - Local | 0.00 | 2.9 | 670 |
| Ukraine | 0.00 | 13.0 | 150 |
| Ukraine - Local | 0.00 | 10.9 | 178 |
| Ukraine - Cell | 0.00 | 22.1 | 88 |
| Ukraine - Cell - Local | 0.00 | 20.1 | 97 |
| USA - 48 states | 0.00 | 3.4 | 572 |
| USA - 48 states - Local | 0.00 | 1.4 | 1389 |
| USA - Alaska | 0.00 | 9.0 | 216 |
| USA - Alaska - Local | 0.00 | 7.0 | 278 |
| USA - Hawaii | 0.00 | 4.4 | 442 |
| USA - Hawaii - Local | 0.00 | 2.4 | 810 |
| Z | Con. fee($) | Rate (¢/min) | Minutes |
| Zimbabwe | 0.00 | 12.7 | 153 |
| Zimbabwe - Local | 0.00 | 10.3 | 188 |