Freedom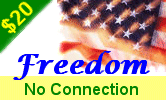 Rating:

Rate It
Email Friends

Our Price:
$12.95
List Price:
$20.00
Prepaid phone card with low rates
320 minutes to China
No service fee. No maintenance fee
Fiber Optical Line
No Connection Fee!
Customer Service

sales@seawolftech.com

Access Number

1-888-450-1707 (English)
1-888-450-1719 (Chinese)
1-888-450-1766 (Spanish)

Dial Instructions

1. Dial Access Number
2. Enter your pin No.
3. To call within the United States, to Canada or to the Carbbean:
Enter 1 + area code + tele No. + #
To call other country:
Enter 011 + country code + city code + tele No. + #


Expiration

90 days after purchase

Note

One minute rounding. No service fee. $0.89 charge when used from a public pay phone, hotel phone or campus phone. No monthly maintenance fee. This card can not be used in Alaska, Hawaii and Canada.
Rate Info for Freedom:
Rate subject to change without notice. Rates to cellphone are higher unless indicated.
| Country/Region | | | |
| --- | --- | --- | --- |
| A | Con. fee($) | Rate (¢/min) | Minutes |
| Albania | 0.00 | 34.1 | 38 |
| American Samoa | 0.00 | 23.5 | 55 |
| Andorra | 0.00 | 46.2 | 28 |
| Angola | 0.00 | 51.8 | 25 |
| Argentina | 0.00 | 21.6 | 60 |
| Argentina - Buenos Aires | 0.00 | 11.8 | 110 |
| Aruba | 0.00 | 36.0 | 36 |
| Australia | 0.00 | 10.4 | 125 |
| Austria | 0.00 | 10.5 | 123 |
| B | Con. fee($) | Rate (¢/min) | Minutes |
| Belgium | 0.00 | 10.1 | 128 |
| Bermuda | 0.00 | 22.7 | 57 |
| Brazil | 0.00 | 22.3 | 58 |
| C | Con. fee($) | Rate (¢/min) | Minutes |
| Canada | 0.00 | 9.4 | 138 |
| Chile | 0.00 | 11.1 | 117 |
| China - inc. Cell | 0.00 | 4.0 | 320 |
| Colombia | 0.00 | 24.0 | 54 |
| Costa Rica | 0.00 | 19.3 | 67 |
| Croatia | 0.00 | 24.4 | 53 |
| Czech Rep | 0.00 | 14.9 | 87 |
| D | Con. fee($) | Rate (¢/min) | Minutes |
| Denmark | 0.00 | 8.8 | 147 |
| Dominican Republic | 0.00 | 20.2 | 64 |
| E | Con. fee($) | Rate (¢/min) | Minutes |
| Ecuador | 0.00 | 37.0 | 35 |
| Estonia | 0.00 | 14.7 | 88 |
| F | Con. fee($) | Rate (¢/min) | Minutes |
| Faeroe Islands | 0.00 | 26.4 | 49 |
| Finland | 0.00 | 10.7 | 121 |
| France | 0.00 | 8.8 | 147 |
| G | Con. fee($) | Rate (¢/min) | Minutes |
| Georgia | 0.00 | 21.6 | 60 |
| Germany | 0.00 | 9.2 | 141 |
| Ghana | 0.00 | 32.4 | 40 |
| Gibraltar | 0.00 | 23.5 | 55 |
| Greece | 0.00 | 15.8 | 82 |
| H | Con. fee($) | Rate (¢/min) | Minutes |
| Hong Kong | 0.00 | 10.9 | 119 |
| Hungary | 0.00 | 19.0 | 68 |
| I | Con. fee($) | Rate (¢/min) | Minutes |
| Iceland | 0.00 | 11.5 | 113 |
| Indonesia | 0.00 | 17.7 | 73 |
| Iran | 0.00 | 26.4 | 49 |
| Ireland | 0.00 | 8.8 | 147 |
| Israel | 0.00 | 13.2 | 98 |
| Italy | 0.00 | 9.5 | 137 |
| J | Con. fee($) | Rate (¢/min) | Minutes |
| Japan | 0.00 | 11.8 | 110 |
| K | Con. fee($) | Rate (¢/min) | Minutes |
| Korea, South | 0.00 | 10.9 | 119 |
| L | Con. fee($) | Rate (¢/min) | Minutes |
| Lesotho | 0.00 | 28.8 | 45 |
| Liechtenstein | 0.00 | 15.4 | 84 |
| Lithuania | 0.00 | 35.0 | 37 |
| Luxembourg | 0.00 | 13.9 | 93 |
| M | Con. fee($) | Rate (¢/min) | Minutes |
| Malawi | 0.00 | 26.4 | 49 |
| Malaysia | 0.00 | 12.2 | 106 |
| Malta | 0.00 | 26.4 | 49 |
| Mexico | 0.00 | 25.4 | 51 |
| Moldova | 0.00 | 28.8 | 45 |
| Monaco | 0.00 | 18.0 | 72 |
| N | Con. fee($) | Rate (¢/min) | Minutes |
| Namibia | 0.00 | 30.1 | 43 |
| Netherlands | 0.00 | 8.5 | 153 |
| New Zealand | 0.00 | 10.1 | 128 |
| Norway | 0.00 | 9.2 | 141 |
| P | Con. fee($) | Rate (¢/min) | Minutes |
| Poland | 0.00 | 16.6 | 78 |
| Portugal | 0.00 | 11.8 | 110 |
| R | Con. fee($) | Rate (¢/min) | Minutes |
| Russia | 0.00 | 21.6 | 60 |
| S | Con. fee($) | Rate (¢/min) | Minutes |
| San Marino | 0.00 | 14.6 | 89 |
| Singapore | 0.00 | 8.8 | 147 |
| South Africa | 0.00 | 23.5 | 55 |
| Spain | 0.00 | 9.6 | 135 |
| Sweden | 0.00 | 8.1 | 160 |
| Switzerland | 0.00 | 9.4 | 138 |
| T | Con. fee($) | Rate (¢/min) | Minutes |
| Taiwan | 0.00 | 11.7 | 111 |
| Taiwan - Taipei | 0.00 | 9.8 | 132 |
| U | Con. fee($) | Rate (¢/min) | Minutes |
| UK - to 441 & 442 only | 0.00 | 8.8 | 147 |
| USA | 0.00 | 9.4 | 138 |
| Z | Con. fee($) | Rate (¢/min) | Minutes |
| Zambia | 0.00 | 33.2 | 39 |
| Zimbabwe | 0.00 | 18.0 | 72 |