Old Fiesta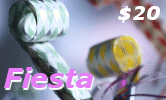 Rating:

Rate It
Email Friends

Our Price:
$19.95
List Price:
$20.00
600 mins to Spain, 220 mins to Jamaca
300 mins to Mexico, 512 mins to Brazil
Taxes and Fees will apply
No Connection Fee!
Customer Service

sales@seawolftech.com

Access Number

1-800-508-3261

Dial Instructions

1. Dial Access Number
2. Enter your pin No.
3. To call within the United States, to Canada or to the Carbbean:
Enter 1 + area code + tele No. + #
To call other country:
Enter 011 + country code + city code + tele No. + #


Expiration

90 days after purchase

Note

Call time is deducted in three minute increments. A weekly maintenance fee of $0.69 will be assessed next day after first call. There is a $0.89 surcharge on payphones. Taxes will apply. Advertised minutes are based on one time usage. Rates are higher for international cellular.
Rate Info for Old Fiesta:
Rate subject to change without notice. Rates to cellphone are higher unless indicated.
| Country/Region | | | |
| --- | --- | --- | --- |
| A | Con. fee($) | Rate (¢/min) | Minutes |
| Argentina | 0.00 | 3.0 | 666 |
| Aruba | 0.00 | 18.5 | 108 |
| B | Con. fee($) | Rate (¢/min) | Minutes |
| Bahamas | 0.00 | 10.0 | 200 |
| Barbados | 0.00 | 19.0 | 105 |
| Belize | 0.00 | 19.9 | 100 |
| Bermuda | 0.00 | 12.5 | 160 |
| Bolivia | 0.00 | 12.5 | 160 |
| Bolivia - La Paz | 0.00 | 5.0 | 400 |
| Bolivia - Sant Cruz | 0.00 | 5.0 | 400 |
| Brazil | 0.00 | 3.9 | 512 |
| Brazil - Rio | 0.00 | 2.5 | 800 |
| Brazil - Sao Paolo | 0.00 | 2.5 | 800 |
| C | Con. fee($) | Rate (¢/min) | Minutes |
| Cayman Islands | 0.00 | 16.6 | 120 |
| Chile | 0.00 | 3.3 | 600 |
| Colombia | 0.00 | 5.0 | 400 |
| Costa Rica | 0.00 | 5.0 | 400 |
| Cuba | 0.00 | 99.8 | 20 |
| D | Con. fee($) | Rate (¢/min) | Minutes |
| Dominica | 0.00 | 19.9 | 100 |
| Dominican Republic | 0.00 | 11.1 | 180 |
| E | Con. fee($) | Rate (¢/min) | Minutes |
| Ecuador | 0.00 | 8.0 | 250 |
| El Salvador | 0.00 | 8.0 | 250 |
| F | Con. fee($) | Rate (¢/min) | Minutes |
| French Guiana | 0.00 | 16.6 | 120 |
| G | Con. fee($) | Rate (¢/min) | Minutes |
| Grenada | 0.00 | 19.9 | 100 |
| Guatemala | 0.00 | 9.1 | 220 |
| Guyana | 0.00 | 33.2 | 60 |
| H | Con. fee($) | Rate (¢/min) | Minutes |
| Haiti | 0.00 | 16.6 | 120 |
| Honduras | 0.00 | 19.9 | 100 |
| J | Con. fee($) | Rate (¢/min) | Minutes |
| Jamaica | 0.00 | 9.1 | 220 |
| M | Con. fee($) | Rate (¢/min) | Minutes |
| Mexico | 0.00 | 6.7 | 300 |
| N | Con. fee($) | Rate (¢/min) | Minutes |
| Nicaragua | 0.00 | 12.5 | 160 |
| P | Con. fee($) | Rate (¢/min) | Minutes |
| Panama | 0.00 | 10.0 | 200 |
| Paraguay | 0.00 | 10.0 | 200 |
| Peru | 0.00 | 6.7 | 300 |
| Peru - Lima | 0.00 | 3.0 | 666 |
| Puerto Rico | 0.00 | 4.0 | 500 |
| S | Con. fee($) | Rate (¢/min) | Minutes |
| Spain | 0.00 | 3.3 | 600 |
| T | Con. fee($) | Rate (¢/min) | Minutes |
| Trinidad | 0.00 | 14.2 | 140 |
| U | Con. fee($) | Rate (¢/min) | Minutes |
| Uruguay | 0.00 | 12.5 | 160 |
| V | Con. fee($) | Rate (¢/min) | Minutes |
| Venezuela | 0.00 | 6.7 | 300 |
| Venezuela - Caracas | 0.00 | 4.0 | 500 |